Do you LOVE the pictures on pinterest and instagram these days with all sorts of rainbow and unicorn colors for your hair? We do too BUT sometimes we cringe when you show us those pictures at your hair appointment.
Why, you ask? Because the reality is those colors are most definitely FASHION colors and take a lot of work to get there, a lot of maintenance to keep and most importantly, a lot of those pictures are edited before posting.
What we can tell you is that more than half our stylists have been certified by Aveda in Kinetic Color which is their version of education in the trend colors you are seeing. Aveda colors are based in nature so therefore, you may not get all the crazy neon colors utilizing Aveda but the cool part is, you will get some amazing colors while still keeping your hair healthy with their 97% naturally based color line unlike others (ahem manic panic)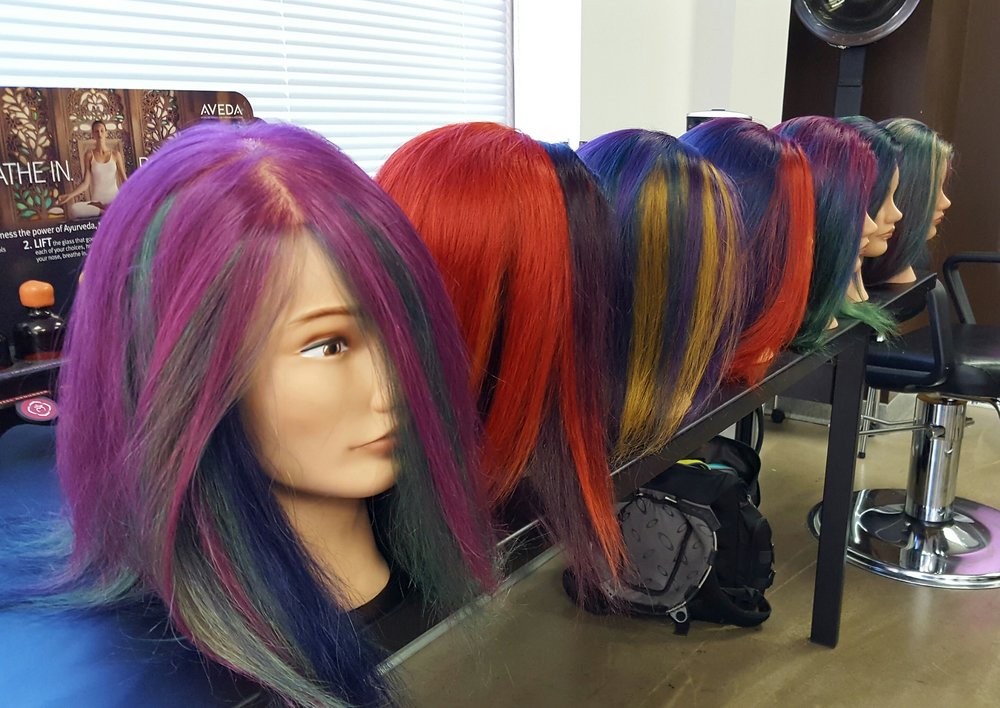 So if you are looking for amazingly cool colors in your hair yet sticking true to having healthy, beautiful hair, look no further than our stylists Kara, Breann and Sarah. All three of them had a blast taking Kinetic Color this year, playing with the 1000s (yes I said THOUSANDS) of color formulations to create every shade imaginal that is in nature. (Side note, Aveda colors don't make Hot Pink or the perfect Teal. Why? You show us it in nature truly and we will figure out how to make it!)
When you want one of these colors we HIGHLY suggest sending us a snap but the basics are this:
– These Colors Take TIME. Expect your appointment to last anywhere from 2-8 hours depending on previous hair color, length of hair and current color.
– These Colors can be expensive. Why? Because we usually have to use a LOT of color to get a true saturation and traditionally we must lift your color out first before putting on the Fun Stuff
– These are fashion colors. That means they will not last forever. Expect to have a major upkeep involved when doing these colors.
Here's a few snapshots of training for our class. We love love loved our educator, Jeffrey Scott from Aveda and learned so much not just about Fashion colors BUT hair color in general!