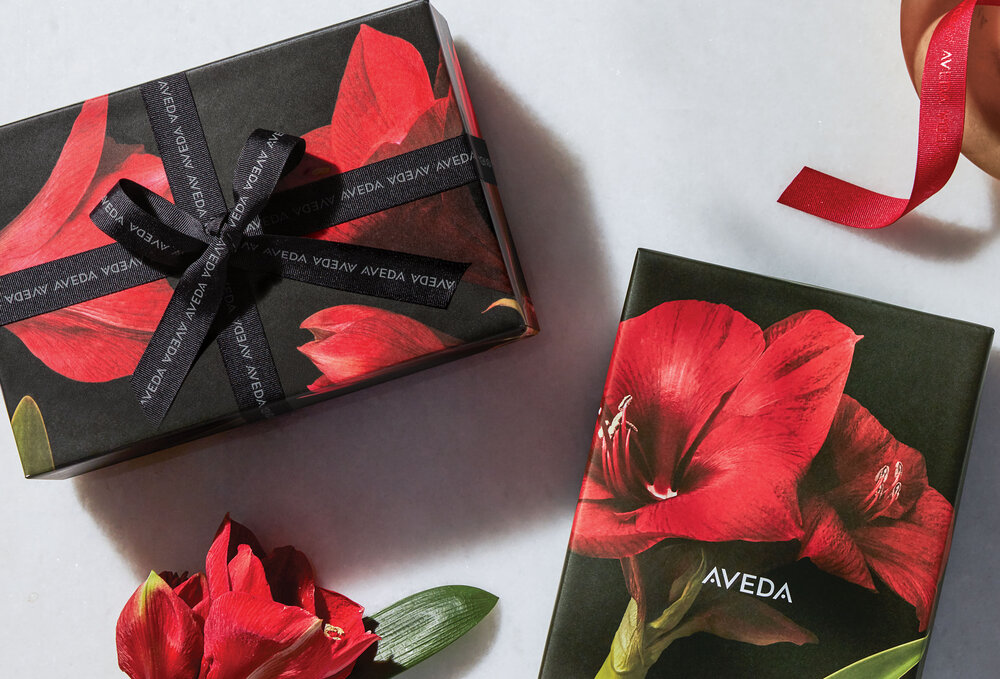 2019 has brought attention to an important (but often overlooked) detail: meaning. Things like mental health, self care, social and environmental responsibility have been hot topics of conversation. We're learning to pay more attention to loving ourselves, our planet and each other and that if it doesn't spark joy, to let it go. This season, as we decorate our homes, dig up the family recipes, celebrate with friends, family and colleagues and begin our holiday shopping—keep in mind the meaning of it all.
When things get down to the wire and you still need to find that gift that's useful, original and of course, meaningful, look no further than Thirty Hair. Here's what you can count on when it comes to gift shopping with us: There's a little something for everyone and beautifully wrapped-and-ready-to-go Aveda gift sets featuring the brand's most iconic products. This is why we love them:
PERFECT FOR ANYONE
Looking for something for a teacher, boss or secret Santa? Sometimes the gift just needs to be universal and pleasant—but another tin of popcorn is too expected. Stand out with a gift that will make them feel (and smell) amazing. These gifts carry a diverse range of hair care featuring iconic Aveda aromas like Cherry Almond and Rosemary Mint, as well as body care like Hand and Foot Relief. Great for men, women, younger or older, anyone will love a gift that promotes self care. Bonus points if they immediately open the bottle to take in the aroma.
EARTH-FRIENDLY
The more we can be earth-friendly as a whole, the better chance we have at saving our planet. Aveda is cruelty-free, non-toxic, vegan, naturally-derived and the first beauty company to use 100% post-consumer recycled PET. The signature Aveda aromas that are so widely loved, are made from pure plant and flower essences. The products contain no silicone, parabens, synthetic fragrance, formaldehyde, animal ingredients and other harmful components. And no animals are ever harmed in the making of Aveda products. The one receiving this gift will love knowing the thought and consideration for our planet behind it.
GREAT FOR TREATING YOURSELF
Let's face it, holiday shopping always leads to a little self indulgence. And that's completely ok. You deserve to treat yourself and feel special too. Plus, when you purchase a gift set, you get to stock up at a great value—buying your favorite Aveda products this way saves 20% off regular pricing. So don't feel guilty. You've made it through another year and now you should be able to show yourself the same appreciation you show others.
EASY ON THE BUDGET
Speaking of great value—there's an Aveda gift set for almost any budget. Whether it's for someone you barely know or someone you really want to impress, you can find a gift set at almost any price point.
Here's some of our faves:
For stocking stuffers:
Limited-edition Hand Relief – $9
For a beauty lover:
Feed My Lips Mini Gloss Duo – $22
Includes two beautiful mini lip glosses
For the hair care lover:
Cherry Almond Softening and Detangling Set – $44
Includes Cherry Almond softening shampoo and conditioner, Hand Relief moisturizing creme, and detangling comb.
Your bound to touch hearts with a beautifully wrapped, environmentally-friendly, amazing smelling gift from Aveda. Come get your holiday shopping done at Thirty Hair.
Shop Aveda gift sets online.