This time of year is full of gifts, glitz and glamour. Most importantly, it's also filled with gratitude. During the holiday season, it's especially important to give thanks for the things in your life that you are grateful for. At Thirty Hair, we appreciate our amazing team, loyal guests and the organizations that impact our local community. 
For Giving Tuesday, we invited our stylists to share a cause that they hold close to their hearts. In return, our salon will donate $20 to each charity that matters to them.
We invite you to read about the organizations that have impacted our team, loved ones and the community. If you feel inspired, we hope that you take the time to learn more and consider spreading the love by giving back this holiday season. 
Warrior Canine Connection
Tamara, Stylist 
Tamara is passionate about the well-being of animals. For Giving Tuesday, she wants to honor Albert, a dog in training that frequents Thirty Hair Salon with his trainer. She especially loves this charity because it assists wounded veterans with service animals. 
Learn more: https://warriorcanineconnection.org/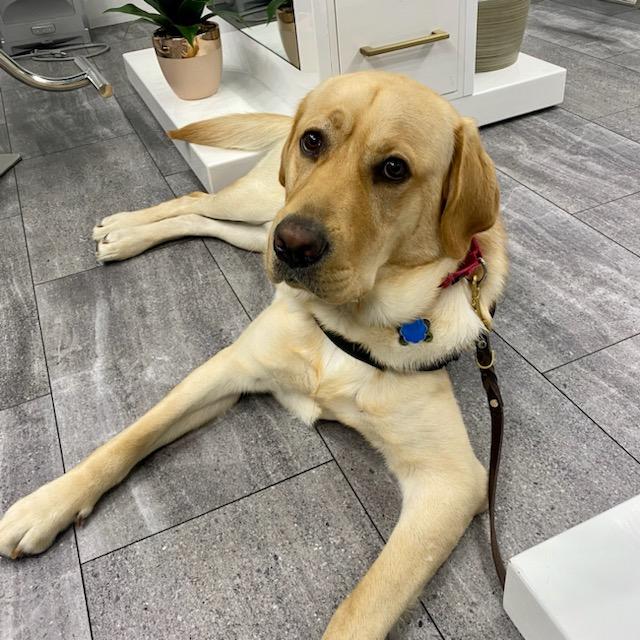 Gigi's Playhouse
Amber, Stylist 
In honor of her niece that has Down Syndrome, Amber wants to spread the good news of Gigi's Playhouse. This organization was created to change the way the world views a Down Syndrome diagnosis. They aim to see a world where individuals with Down syndrome are accepted and embraced in their local communities, thus creating a global message of acceptance for all.
Learn more: https://gigisplayhouse.org/ 
Charity Water
Emma, Stylist 
Having access to clean water is often taken for granted. Emma values how organizations like Charity Water help impoverished communities worldwide gain access to safe drinking water. To date, they have helped more than 15 million people in 29 countries through sanitation, well-building and hygiene projects. 
Learn more: https://www.charitywater.org/
Small Miracles Animal Rescue
Rebecca, Stylist 
Rebecca loves animals and believes that they greatly enrich our lives. This is why she has chosen to highlight Small Miracles Animal Rescue, an organization that aims to find every furry friend a home. 
Learn more: http://www.smallmiraclesrescue.org/
Planned Parenthood
Melissa, Front Desk 
It has been a challenging year for women's rights, and Melissa wants to honor the women of the past, present and future by donating to Planned Parenthood. She believes that everyone should have equal access to healthcare, and Planned Parenthood provides reproductive resources to women in need. 
Learn more: https://www.plannedparenthood.org/
St Jude Children's Research Hospital
Ally, Front Desk and soon-to-be Apprentice 
Ally recognizes how cancer is a hard thing to go through, and it's unimaginable for a child to spend their youth in the hospital. She wants to highlight St. Jude, who provides patients and their families with assistance with treatment costs, travel, housing and food during pediatric cancer treatment. 
Learn more: https://www.stjude.org/
View this post on Instagram
Melanoma Research Foundation
Adriana, Shampoo Assistant 
Melanoma is one of the deadliest skin cancers, and it's important to research how it can be caught early. Adriana wants to raise awareness for the Melanoma Research Foundation in honor of her step-mother, ​​Ciara Johnson, who unfortunately passed away due to the rapid effects of Melanoma. 
Learn more: https://melanoma.org/
UnidosUs
Lucilla, Stylist 
As a first-generation Mexican American, Lucilla wants to highlight the amazing work done by UnidosUs. This charity helps Latinos in America learn about their civil rights and how they can gain access to beneficial health & education programs. 
Learn more: https://www.unidosus.org/
Wildlife Conservation Society
Leah, Stylist 
Our ecosystem is our home, and we need to take care of it. Leah cares about wildlife and our ecosystem, which is why she wants to raise awareness for the Wildlife Conservation Society. This organization's mission is to save wildlife and their homes. 
Learn more: https://www.wcs.org/
View this post on Instagram
Children's Diabetes Foundation
Kara, Stylist 
In honor of her daughter, Kassidy, who is a Type I diabetic, Kara wants to shed light on the Children's Diabetes Foundation. Their focus is on supporting patients, investing in diabetes research and achieving public awareness. 
Learn more: https://www.childrensdiabetesfoundation.org/
ZenByCat
Nancy, Front Desk 
Nancy's nephew-cat, Rufus, contracted Feline Infectious Peritonitis (FIP) over two years ago—this is usually fatal. However, Rufus was able to get the treatment he needed to make a full recovery with the help of ZenByCat! He has made a full recovery and is thriving!
Learn more: https://www.zenbycat.org/
Black Women's Health Imperative
Lonnie, Stylist 
In general, women's health is very important, and as a Black woman, Lonnie recognizes that subpar care is sometimes given. This is why she wishes to highlight the importance of the Black Women's Health Imperative, an organization dedicated to achieving health equity for Black women in America.
Learn more: https://bwhi.org/
Do these causes resonate with you? Call 410.381.7070 for questions about Giving Tuesday.