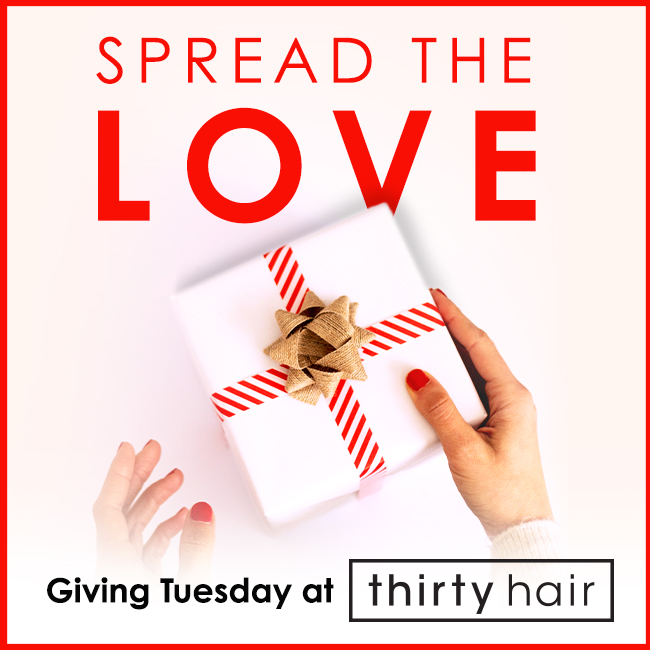 We get it. The holidays are the most chaotic time of the year. From finding the best gifts for your loved ones to creating the perfect setup for your Thanksgiving dinner, it can be hard to keep sight of the meaning behind the holidays we dedicate our time to preparing for. That's why at Thirty Hair, we take a deep breath and re-center our mindset every year for Giving Tuesday. 
This Giving Tuesday, November 28th, Thirty Hair is taking the opportunity to shine a light on the causes most important to us. This salon tradition is extremely close to our hearts as we give each member of our team a chance to educate one another on a charity that is important to them, and in turn, donate $20 to each charity.
If you connect with any of the charities listed below, please take a moment to learn more and think about how you can give back this holiday season. 
American Diabetes Association (ADA)
Kara, Lead Stylist 
& 
Arielle, Front Desk
In honor of Kara's daughter Kassidy, who has Type I diabetes, Kara wants to encourage support of the American Diabetes Association. Arielle would also like to encourage donations towards the ADA, as various members of her family face the challenges of being diabetic. 
The ADA is leading the cause to prevent and cure diabetes while bettering the lives of those facing the disease. With nearly one in two Americans facing diabetes, this cause is more important than ever. 
Learn more here: https://diabetes.org/ 
Donate here.
ASPCA
Leah, Stylist
All pets deserve a home. Leah loves animals which is why she wants to raise awareness for The ASPCA. This group advocates for animal adoption and rescue, striving to find loving homes for pets in need all across America.
Learn more here: https://www.aspca.org/ 
Donate here. 
Autism Speaks 
Melissa, Front Desk Manager 
Advocating for Autism is crucial in ending the stigma. In honor of her nephew, Melissa has chosen Autism Speaks. This organization raises awareness about autism and promotes acceptance and inclusion, fostering a more inclusive society.
Learn more here: https://www.autismspeaks.org/ 
Donate here. 
GiGi's Playhouse 
Amber, Stylist 
Gigi's Playhouse is committed to providing free therapeutic educational programs and tutoring services that cater to individuals with Down Syndrome. This organization is super special to Amber, as her amazing niece Maleah has Down Syndrome.
Learn more here: https://gigisplayhouse.org/annapolis/about/ 
Donate here. 
House of Ruth Maryland 
Nancy, Front Desk 
Being at the forefront of intimate partner violence support, House of Ruth Maryland assists thousands of battered women and their children in finding access to safety and security. Nancy chose this organization in solidarity with women struggling in abusive relationships. 
Learn more here: https://hruth.org/ 
Donate here.
Small Miracles Animal Rescue
Rebecca, Stylist
Rebecca is passionate about animals and the good they add to our lives. Small Miracles Cat & Dog Rescue operates as a private, nonprofit, no-kill shelter. They are committed to delivering quality care and securing permanent homes for countless abandoned cats and dogs. 
Learn more here: http://www.smallmiraclesrescue.org/index.shtml
Donate here.
St. Jude Children's Research Hospital 
Ally, stylist in training
&
Emma, stylist 
Both Ally and Emma have chosen St. Jude as their charitable cause to donate to. 
As a survivor of thyroid cancer, Ally acknowledges both the obvious and unforeseen challenges that come with battling the disease. She wants to highlight how St. Jude provides patients and their families with assistance in treatment costs, travel, housing, and food during pediatric cancer treatment. 
Emma strives to bring attention to the research that St. Jude facilitates. All children deserve to lead a normal life, and Emma wants to shed light on the important research St. Jude has contributed in finding a cure. 
Learn more here: https://www.stjude.org/ 
Donate here. 
Pascal Women's Center at UM BWMC
Lonnie, Stylist
Lonnie is encouraging support of the Pascal Women's Center. Every year they hold a Zoom for mothers who experience loss during pregnancy. Having been a part of the call, Lonnie wants others to know about this resource and the support it can provide to those who have experienced an unimaginable loss. 
Learn more here: https://www.umms.org/bwmc/locations/pascal-womens-center 
Donate here.
Warrior Canine Connection 
Tammy, Stylist 
Tammy's chosen charity, Warrior Canine Connection, puts recovering veterans through a therapeutic program of learning to train service dogs for fellow veterans. This charity runs locally as Tammy is choosing this organization in honor of Canine Rachel, a pup serving a local Warrior. 
Learn more here: https://warriorcanineconnection.org/about-us/ 
Donate here.
Thank you for your support!
We invite you to take a moment to explore the charities our team supports and consider how you can make a positive impact this holiday season, whether it's through volunteering, donating, or simply spreading the word. Together, we can make a difference in the lives of those who need it most and bring a sense of warmth and unity to this holiday season.